<!- mfunc feat_school ->
Featured Programs:
Sponsored School(s)
<!- /mfunc feat_school ->
Depending on the career path a graduate chooses, they can earn salaries ranging from $33,500 to over $150,000.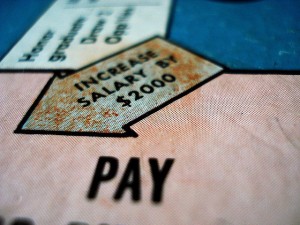 The demand for many types of public health professionals is increasing annually. This is largely because governments are starting to understand that one of the most cost-effective ways to improve population health and cut health costs is to invest in public health disease prevention. This is what is causing a great increase in demand for public health workers.
Looking for a Top Ranked Accredited CEPH MPH Degree online without the GRE requirement?
SCHOOL ALERT: 5+ Top Online MPH Degree Programs
The Bureau of Labor Statistics reports that many types of public health professionals will see much higher demand in the near future.
For example, there will be a 37% increase in demand for public health educators by 2020.
Public Health Salaries on the Upswing
With the increase in demand, there has been a solid rise in salaries for many in the field. Some of the median salaries in common public health fields include:
Health educator: $45,500

Environmental scientist: $61,700

Statistician: $72,800

Public health nurse: $64,400

Health service manager: $82,000
But remember that many public health salaries are going to vary a good deal based upon where you live.
YouTube Special Feature
What is Public Health? University of Washington School of Public Health. In this student-produced video, Dean Howard Frumkin, faculty and students of the University of Washington School of Public Health tell us how they are making our lives healthier and safer.
Top Cities for Public Health Employment
In fact, some cities are known to have more public health jobs and higher salaries than others. Some of the top cities for public health employment include the following:
Raleigh, North Carolina: The metropolitan area of this fast-growing North Carolina city is one of the fastest-growing public health cities in the US. The median salary in the public health field is $40,000 but the area also boasts a low cost of living, ranking 46 on a 100 scale for affordability. Also, commutes are reasonable with an average of 21 minutes.

Des Moines IA: This area has some of the lowest unemployment rates in the US, with a recent rate of 3.1%. The public health salary median is $41,000. There are many major health care players in this city, such as Principal Life Insurance Co., Iowa Health Systems and Wellmark.

Boston MA: This top public health city is the home of Brigham and Women's Hospital, Massachusetts General Hospital and Beth Israel. Each of these organizations employs thousands of health-related employees. The median public health salary here is about $49,000.

Portland, OR: The median salary here is $45,000, and it has a low cost of living. Portland is well known for being a very livable city and having an excellent public transit system. Expect to save on gas and insurance here.

Madison, WI: This city has a very low unemployment rate of 2.6%, and is the home of many excellent health care facilities. The median salary is about $41,000, but the cost of living is very reasonable. There also are many leading universities here, and this makes it an excellent home for public health researchers.

Some other US cities with a high number of health care and public health jobs include:
Houston, Texas

Philadelphia, Pennsylvania

Baltimore, Maryland

Milwaukee, Wisconsin

Denver, Colorado

Fargo, North Dakota

New York City, New York

Cleveland, Ohio

Norfolk, Virginia
Health care-focused cities such as those above should see an influx of public health and health care workers by 2020, with another 3.2 million jobs being added across the US in that time.
As a public health professional, you can earn a very good salary. Exactly how much you will earn depends upon your exact public health profession and where you live. Below are the average salaries for public health workers in different states. These also are figures for the average MPH salary. Keep in mind that while some states do have lower salaries, they also generally have a lower cost of living, such as for real estate, food and gas.
In the MPH salary outlook below, we have noted the states and cities where the cost of living is particularly high.
Alabama (Birmingham): $46,677

Alaska (Anchorage): $65,825 *High Cost of Living – 23% above national average*

Arizona (Phoenix): $46,605

Arkansas (Little Rock): $59,700

California (Sacramento): $50,000 *High Cost of Living – 3% above national average*

Colorado (Denver): $57,966 *High Cost of Living – 9% above national average*

Connecticut (Hartford): $32,221

Delaware (Wilmington): $77,100 *High Cost of Living – 37% above national average*

Florida (Miami): $46,877 *High Cost of Living – 4% above national average*

Georgia (Atlanta): $58,146 *High Cost of Living – 12% above national average*

Hawaii (Honolulu): $59,114 *High Cost of Living – 24% above national average*

Idaho (Boise): $60,029

Illinois (Chicago): $48,370 *High Cost of Living – 3% above national average*

Indiana (Indianapolis): $59,969

Iowa (Des Moines): $50,644

Kansas (Wichita): $56,859

Kentucky (Louisville): $40,322

Louisiana (New Orleans): $37,544

Maine (Bangor): $51,036

Maryland (Baltimore): $43,750

Massachusetts (Boston): $62,741 *High Cost of Living – 9% above national average*

Michigan (Grand Rapids): $51,018

Minnesota (Minneapolis): $77,800

Mississippi (Gulfport): $39,200

Missouri (Kansas City): $55,004

Montana (Helena): $54,213

Nebraska (Columbus): $42,200

New Hampshire (Rochester): $53,234

New Jersey (Newark): $26,574

New Mexico (Santa Fe): $42,845

New York (New York): $76,213 *High Cost of Living – 24% above national average*

North Carolina (Raleigh): $72,100

North Dakota (Bismarck): $37,432

Ohio (Columbus): $44,151

Oklahoma (Oklahoma City): $47,978

Oregon (Salem): $48,500

Pennsylvania (Pittsburgh): $56,548

Rhode Island (Portsmouth): $61,798

South Carolina (Myrtle Beach): $55,466

South Dakota (Sioux Falls): $58,165

Tennessee (Chattanooga): $38,750

Texas (Houston): $38,700

Utah (Salt Lake City): $49,293

Vermont (Burlington): $52,070

Virginia (Alexandria): $75,400 *High Cost of Living – 50% above national average*

Washington (Seattle): $65,628

West Virginia (Wheeling): $49,064

Wisconsin (Milwaukee): $50,419

Wyoming (Laramie): $45,685
Epidemiologist Salaries by State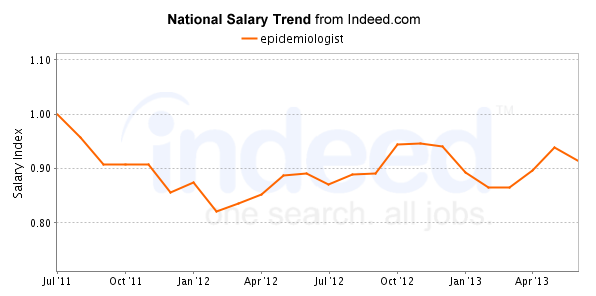 According to salarybystate.org Website, the median salaries for epidemiologists in each state vary widely:
Alabama: $64,000

Alaska: $53,000

Arizona: $55,000

Arkansas: $62,000

California: $69,000

Colorado: $55,000

Connecticut: $68,000

Delaware: $58,000

Florida: $60,000

Georgia: $68,000

Hawaii: $44,000

Idaho: $52,000

Illinois: $66,000

Indiana: $63,000

Iowa: $59,000

Kansas: $57,000

Kentucky: $55,000

Louisiana: $53,000

Maine: $56,000

Maryland: $63,000

Massachusetts: $72,000

Michigan: $61,000

Minnesota: $57,000

Mississippi: $73,000

Missouri: $62,000

Montana: $64,000

Nebraska: $50,000

Nevada: $58,000

New Hampshire: $62,000

New Jersey: $66,000

New Mexico: $56,000

New York: $74,000

North Carolina: $62,000

North Dakota: $59,000

Ohio: $59,000

Oklahoma: $57,000

Oregon: $59,000

Pennsylvania: $55,000

Rhode Island: $63,000

South Carolina: $57,000

South Dakota: $49,000

Tennessee: $59,000

Texas: $59,000

Utah: $55,000

Vermont: $59,000

Virginia: $63,000

Washington: $60,000

Washington DC: $71,000