<!- mfunc feat_school ->
Featured Programs:
Sponsored School(s)
<!- /mfunc feat_school ->
MPH Degree in Social and Behavioral Sciences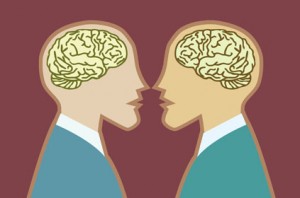 According to the Social and Behavioral Sciences Division at Yale University, the study of social and behavioral sciences is to understand the many influences on health of a population. These influences can include psychosocial, behavioral, community and society, and also includes those who are disadvantaged. They seek to create interventions to the public health system that erase the many aspects of health and wellness that can be eliminated for all ages.
With the increasing global nature of our world, the care and concern for disadvantaged individuals and populations have appeared more and more preventable. With greater access to other parts of the world, more can be done to help those who have had excessive barriers to their ability to health and wellness.
YouTube Special Feature
Nancy Weaver, PhD, MPH at SLU discusses what Behavioral Science and Health Education is and why you should study this.
The elevated nature of these global studies calls for a workforce that is highly trained and educated in the many factors that affect the social and behavioral sciences of global public health. These more sophisticated positions call for a greater proportion of educated employees with more advanced degrees and specific knowledge. A great way to prepare for these careers is to consider a graduate degree, such as the Master of Public Health in Social and Behavioral Sciences.
The following information will provide an understanding of what this degree is made up of, and different ways that obtaining this education may be more achievable than previously believed. First, some examples of universities that are offering programs in this field, and even degrees that are able to be completed entirely online.
MPH Degree Programs in Social and Behavioral Sciences
University of Southern California – (100% Online & Highly Recommended) MPH in Biostatistics and Epidemiology – Joining the two areas of biostatistics and epidemiology will provide a broader level of knowledge involving these two, related studies. Use of statistical procedures will be shown and their ability to measure and identify health trends across populations.

University of Liverpool – (Featured & Highly Recommended!) – MPH in Public Health – Want to study at a UK Non-Profit university without leaving your house? The University of Liverpool offers a fully accredited Online Masters in Public Health. Specialization tracks include Epidemiology, International Public Health, Management of Health Systems & Management. Ideal for developed and developing country students.

West Virginia University – Master of Public Health in Social and Behavioral Sciences – This graduate degree is also offered as an online option. Primary target is to provide understanding and expertise in creating that programs that positively impact the various health conditions of the population at hand. They build the skills in their students to assist them in converting theories and evidence into thoughtful, thorough systems that improve the consistent delivery of health and wellness conditions to the public.

University of West Florida – Master of Public Health in Social and Behavioral Sciences – Addresses the need for professionals to satisfy the expected upcoming increase in retirements from the baby boom generation. This online graduate degree program requires as internship, supervised by a public health professionals. In addition, a proctored final comprehensive exam is required for final degree completion.
Curriculum and Courses for a MPH in Social and Behavioral Sciences
The MPH degree will be what constitutes the core courses that make up the curriculum. The basic courses required of all students will cover biostatistics, environmental health, epidemiology, management sciences, public health biology, problem solving, and social and behavioral sciences. Each school will have options that can be chosen from within each of these areas, but the core will be from each of these topics.
The Social and Behavioral Sciences will also vary depending on the school chosen to pursue the graduate degree at. An example of courses that would constitute the Social and Behavioral Sciences concentration would be from the program at Johns Hopkins University in  Baltimore, Maryland. They require a selection from each of the following categories:
SBS Seminar

Theoretical Basis

Intervention Design and Implementation

Research and Evaluation
Each student can make selections in each category in order to better tailor their education to their individual interests and aspirations. In addition to these categories of courses, they require a capstone experience that aims to provide a way for the student to apply their new found expertise in a project before graduation.
Sample of Core Competencies
There are two sets of core competencies that would be essential in completing this degree. Due to the fact that the degree is a Master of Public Health, there is one set of core competencies that are related to that degree. According to the Association of Schools of Public Health, these core elements of a MPH graduate knowledge are:
optimal human growth, development, and dignity across the life-span;

respect for community participation and preferences in health;

air, food, and water safety;

workplace, school and recreation site safety;

timely detection of disease outbreaks and public health threats;

science-based responses to public health problems;

health care access, efficiency, and effectiveness;

encouragement of healthy choices that prolong a high quality life; and

design and maintenance of policies and services to meet community and individual needs for physical and mental health.
The field of social and behavioral sciences would be the concentration or specialization under the MPH degree. On its own, the social and behavioral sciences are considered to have five core areas within which most of the studies are centered. These five are:
Anthropology

Economics

Political Science

Psychology

Sociology
When successfully completing and graduating from a program with a Master of Public Health in Social and Behavioral Sciences, the above two lists of competencies would be all knowledge that will have been acquired. More specifically, these foundational skills will be applied in analysis on the public health in a variety of ways.
The health and wellness of the population will be studied through influences of health, designing interventions, and evaluation of programs created. The research conducted will aid in determining whether or not the designs gave proper weight and credence to the elements considered for the influences.
Discipline-specific Competency for Social & Behavioral Health according to ASPH.org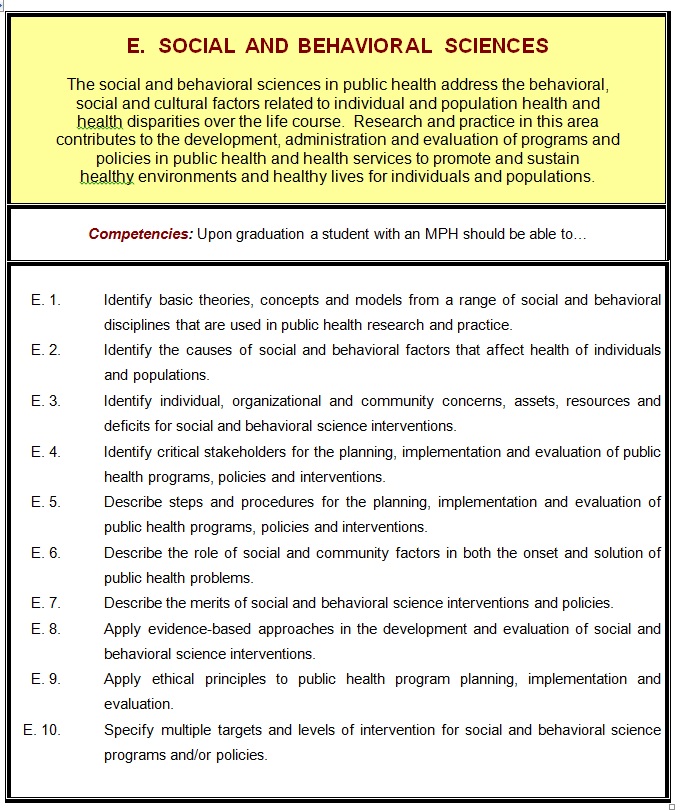 Social and Behavioral Sciences Scholarships, Fellowships & Training
Top Social and Behavioral Sciences Journals
Free Online Courses in Social and Behavioral Sciences
SEE ALSO: Online Free Public Health Courses + Certificate Options!
Additional Social and Behavioral Sciences Links