<!- mfunc feat_school ->
Featured Programs:
Sponsored School(s)
<!- /mfunc feat_school ->
Getting Your MPH in Health Policy and Management

Many individuals interested in changing their current employment situation are noticing that the current health care situation in our country seems to indicate a large-scale demand for more workers in the coming years.
Those same individuals may be wondering how they can best prepare themselves to take advantage of this in-demand field.
The Master of Public Health degree is a great option to consider. It enables current people with public health or management experience a way to leverage their experiences in a way that fits well with the healthcare administration field. The following sections contain many different sources of information that will make it possible to get a thorough understanding of what is out there, and some of the ways to become more familiar with the environment.
MPH Degree Programs in Health Policy and Management
There are many universities and colleges that offer graduate programs in MPH. Many of these schools are offering online educations, where the student can complete their degree from wherever they happen to live, with flexible scheduling for those with current obligations that must be worked within. A few examples of schools with these programs is:
The University of Arizona – Master of Public Health in Public Health Policy and Management – This graduate degree program is offered through the Division of Community, Environment and Policy. Specific training is provided to design policies and programs that are effective on promoting public health. The location of this degree emphasizes the diversity of the populations of the southwest.University of California,

Berkeley (UC Berkeley Online) –  Master of Public Health with Health Policy and Management (HPM) concentration – The HPM concentration is one of five focus options available to UC Berkeley MPH students. The HPM course sequence builds on the MPH core to give you the strategic management, health policy development, and healthcare finance skills you need to be an effective leader in any healthcare organization.

University of Liverpool – (Featured & Highly Recommended!) – MPH in Public Health – Want to study at a UK Non-Profit university without leaving your house? The University of Liverpool offers a fully accredited Online Masters in Public Health. Specialization tracks include Epidemiology, International Public Health, Management of Health Systems & Management. Ideal for developed and developing country students.

University of Illinois at Chicago – Master of Public Health in Health Policy and Administration – The ability to complete this course online is a major benefit for those potential students looking for a flexible program to fit into their life. Many options exist for tailoring this curriculum to particular interests, and applies to those at all levels of public health administration.

Loyola University Chicago – Master of Public Health in Public Health Policy and Health Management – Primary to the studies in this program are an emphasis on the many disparities that exist in both racial and economic factors as well as bioethics. Availability of an online course of study make this program appealing to people no matter where their location.
Curriculum and Courses for a MPH in Health Policy and Management
The core courses in the MPH degree will all be represented with classes required for the degree. These will consist of epidemiology, health policy and management, environmental health, biostatistics, and social and behavioral aspects of public health.
For the specialization area of Health Policy and Management, the particular required courses will vary between colleges and universities. An example of courses that are part of this specialization would be from the University of Arizona, whose program is mentioned above.
Their required classes for this are as follows:
Health Services Administration

Public Health Leadership & Management

Fundamentals of Health Budgeting and Financial Management

Public Health and Rural Health Policy Analysis

Internship experience
While programs will vary on the specifics, these represent what will be found in most graduate programs of study.
Sample of Core Competencies
According to the Council on Education in Public Health, the five primary areas of knowledge that are part of the MPH degree were outlined during a Core Competency Development Project. These five areas are:
Biostatistics

Epidemiology

Environmental Health Sciences

Health Services Administration

Social and Behavioral Sciences
In addition, the Association of Schools of Public Health also recommend seven interdisciplinary competencies that need to be part of a graduate degree in public health. These seven goals for learning of all students are:
Communication and Informatics

Diversity and Culture

Leadership

Public Health Biology

Professionalism

Program Planning

Systems Thinking
These core competencies are the ideas and thoughts around which these programs and curriculums are designed. The core of the program is the MPH so each of the five areas of knowledge will be addressed. For the students selecting to concentrate in the area of Health Policy and Management within the MPH degree, they will then go on to be educated more thoroughly in this one of the five main areas within MPH.
Discipline-specific Competency for Health Policy & Management according to ASPH.org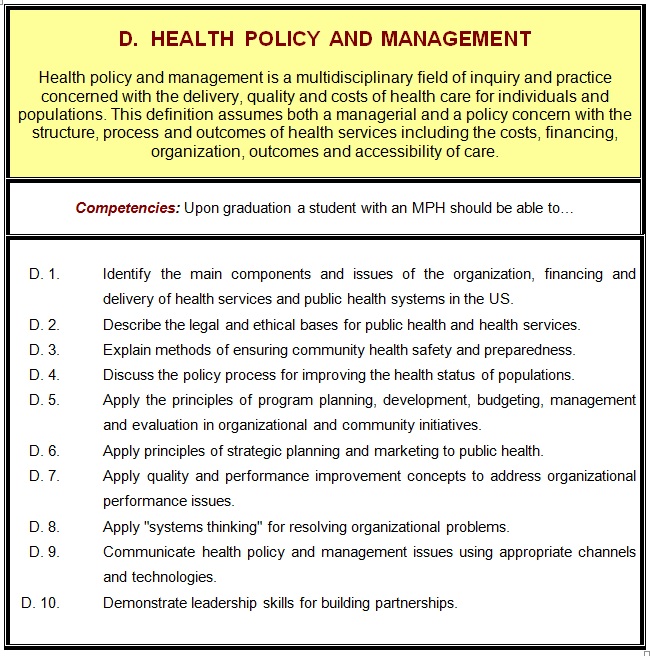 Health Policy and Management Scholarships, Fellowships & Training
Top Health Policy and Management Journals
Free Online Courses in Health Policy and Management
Additional Health Policy and Management Links