<!- mfunc feat_school ->
Featured Programs:
Sponsored School(s)
<!- /mfunc feat_school ->
Tips & Resources and what to expect with a MPH in Epidemiology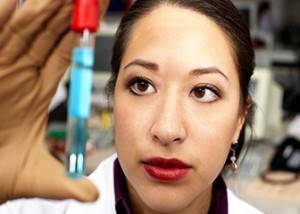 The study of Epidemiology involves the analysis and research of different health related events and how they are spread within a population. For those interested in public health, this is often considered the cornerstone of the study, determining much of what is built into the varied specialized fields within public health. The World Health Organization maintains figures and statistics on much of what is studied through epidemiology, for example to monitor child health around the globe.
As the world becomes more technologically advanced, so do the occupations and careers that operate within the global reach. This necessitates a more educated and sophisticated workforce, placing an increasingly higher importance on advanced education as a requirement for those positions. The same is true within epidemiology. For those interested in working in this area, going forward with a graduate degree can make a resume much more attractive to employers.
There are many programs available for a Master of Public Health in Epidemiology degree, and with modern innovation, many of those degrees can be completed online. Some require occasional visits to a campus location, but there are some that can be earned entirely from your own location. Some examples of these top programs are as listed below.
MPH Degree Programs in Epidemiology
University of Southern California – (Featured & Highly Recommended!) – MPH in Biostatistics and Epidemiology – Joining the two areas of biostatistics and epidemiology will provide a broader level of knowledge involving these two, related studies. Use of statistical procedures will be shown and their ability to measure and identify health trends across populations.
University of Liverpool – (Featured & Highly Recommended!) – MPH in Public Health – Want to study at a UK Non-Profit university without leaving your house? The University of Liverpool offers a fully accredited Online Masters in Public Health. Specialization tracks include Epidemiology, International Public Health, Management of Health Systems & Management. Ideal for developed and developing country students.
University of South Florida – Master of Public Health in Epidemiology – For those interested in an online education, this option provides freedom for your current location, employment, or personal commitments. Their student population consists students from all over the world. All classroom activities are available to online learners through virtual methods. The complete degree program is designed to be completed within two to two-and-a-half years. Students will have the choice between focus on infectious or chronic disease epidemiology as part of their graduate curriculum.
Loyola University Chicago – Master of Public Health in Epidemiology – Prospective students interested in clinical and public health research will find this program an excellent jump start to their career. This hybrid degree program consists of both campus courses and online courses. The campus courses are held just one night a week, and in combination with the online courses, provide for a very flexible alternative to a traditional campus graduate degree program. Pivotal to the program is the application of SAS and STATA software for analysis of all epidemiology and biostatistical information.
Johns Hopkins University – Master of Public Health in Epidemiological & Biostatistical Methods for Public Health & Clinical Research – The curriculum in this specialized program is geared towards those with quantitative backgrounds, whose primary interest is in epidemiologic study design and statistical data analysis. Those with previous experience in this area is the best fit, for their own personal interests and research questions can inspire their course of study towards their own personal professional goals. Within this graduate degree program, students select between the Epidemiology track or the Biostatistics track.
YouTube Special Feature
What Is Epidemiology, and Why Should You Study It?
Curriculum & Courses for a MPH in Epidemiology
As part of an advanced graduate degree in Epidemiology, there will be a lot of specific expertise gained in their particular field of study. Since the Epidemiology study is a specialization under the Master of Public Health degree, there is a whole core set of courses that provide a foundation of knowledge for students on the study of public health.
The core courses of public health will cover each of the five core discipline areas of public health. These are:
Biostatistics

Environmental Health Services

Epidemiology

Health Systems Management

Social Behavioral Sciences
Beyond this core of courses, the specialized courses in the field of epidemiology will begin. Each school will offer different studies within epidemiology for each prospective student to focus on. The various fields can include different types of diseases, different types of transmissions, and different ways of studying the diseases. For example, if a student is interested in focusing their educational efforts on epidemiology of cancer, they would be able to choose their elective courses around that specialty, as long as they choose a school that offers that specialty that matches their particular career aspirations.
SEE ALSO: Epidemiologist Career, Salary & Job Description
Sample of Core Competencies
The Association of Schools of Public Health have identified the core competencies that a graduate of an MPH program must possess upon graduation. These fundamental bases of knowledge include:
Five core discipline areas (Biostatistics, Environmental Health Sciences, Epidemiology, Health Policy Management, and Social Behavioral Sciences)

An integrated interdisciplinary, cross-cutting set of overall competence domains (Communication and Informatics, Diversity and Culture, Leadership, Professionalism, Program Planning, Public Health Biology, and Systems Thinking)
By completing the above described studies, graduates of MPH programs can be assured that the information they need to operate within their field of study will be fulfilled.
Discipline-specific Competency for Epidemiology according to ASPH.org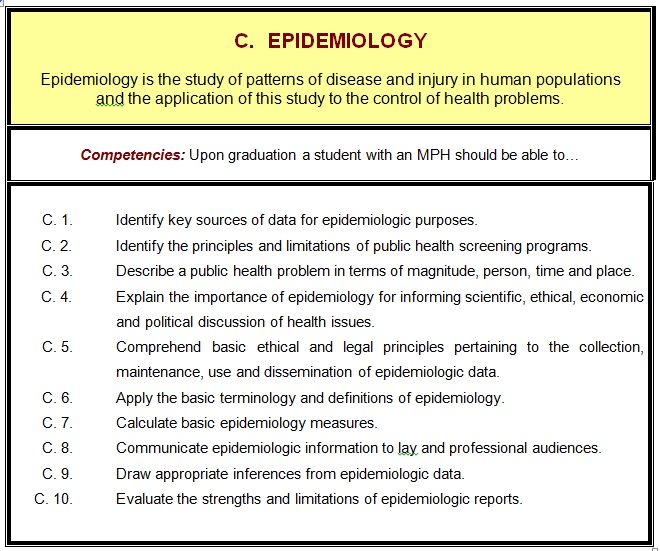 Epidemiology Scholarships, Fellowships & Training
Top Epidemiology Journals
Free Online Courses in Epidemiology
For the field of epidemiology, the highly computational nature of much of the diagnostic research indicates the benefit of an advanced degree for gainful employment in these positions. The above options give different choices to students in the way that the education can be delivered and completed.
SEE ALSO: Online Public Health Courses + Free & Certificate Options!
Whether a particular student is able to relocate to a college with this program, or just  complete it online from where they are currently residing, the barriers to further education are becoming smaller. The above list represents some of the unique programs that provide their own angle to the broad  field of epidemiology.
Additional Epidemiology Links
WWW Epidemiology Virtual Library