<!- mfunc feat_school ->
Featured Programs:
Sponsored School(s)
<!- /mfunc feat_school ->
..tied to research, calculation, and analysis, and for the right person may provide a good entry point…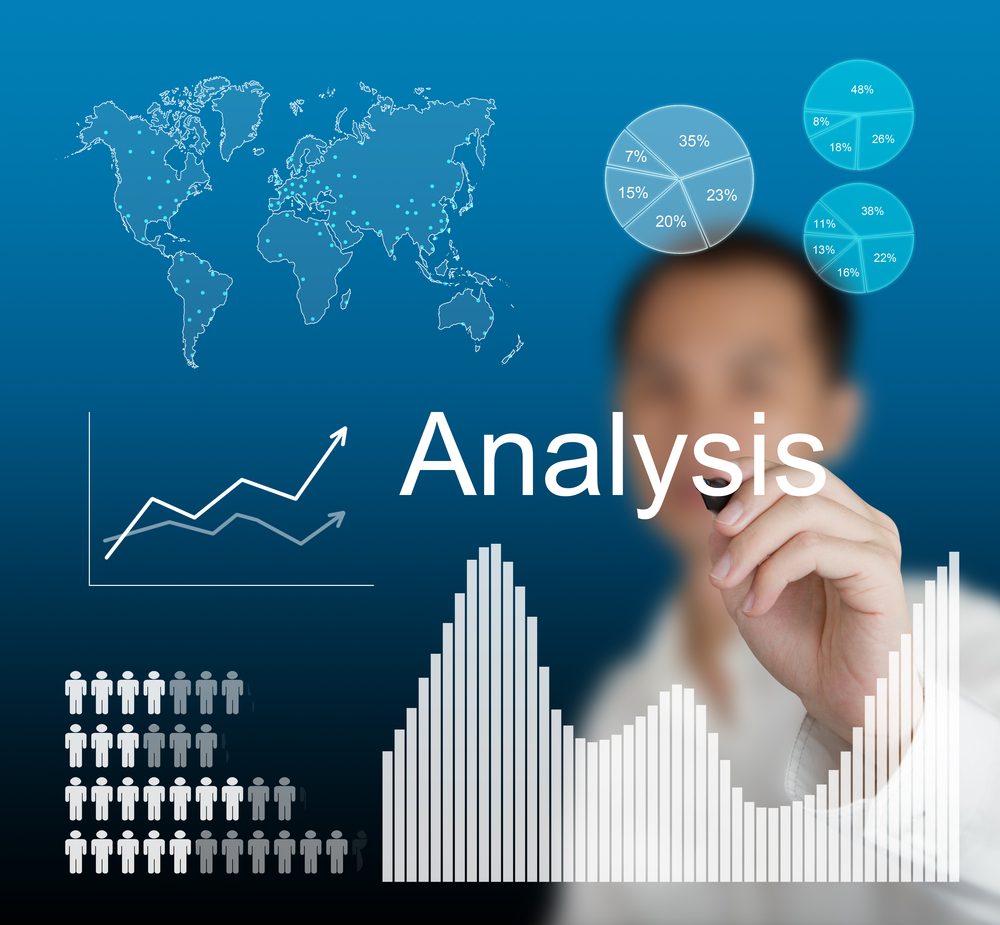 Statistician, "Dream Job of the Next Decade," according to Google's Chief Economist.
For those interested in a career in public health, there are many fields from which to choose. For those interested in the research end more than the public end, the field of Biostatistics may be a good fit. It is very much tied to research, calculation, and analysis, and for the right person may provide a good entry point to the public health industry.
SEE ALSO: Biostatistician Career, Salary & Job Description
According to the U.S. Bureau of Labor Statistics, the occupational outlook for statisticians in general is for 14% growth over the period from 2010-2020. The growth is consistent with the strong growth expected in all health care positions, and also indicates strong demand for adequately trained professionals with these skills.
The following sections will help to provide a quick explanation of the field of Biostatistics and what is involved in pursuing a Master of Public Health graduate degree with that specialization.
MPH Degree Programs in Biostatistics
University of Southern California – (100% Online & Highly Recommended) MPH in Biostatistics and Epidemiology – Joining the two areas of Biostatistics and Epidemiology will provide a broader level of knowledge involving these two, related studies. Use of statistical procedures will be shown and their ability to measure and identify health trends across populations.

University of Liverpool – (100% Online & Highly Recommended!) – MPH in Public Health – Want to study at a UK Non-Profit university without leaving your house? The University of Liverpool offers a fully accredited Online Masters in Public Health. Specialization tracks include Epidemiology, International Public Health, Management of Health Systems & Management. You will be adequately prepared for a career in Biostatistics. Ideal for developed and developing country students.

University of Florida – MPH in Biostatistics – For those with previous graduate degrees in the health sciences, this will help them to specialize in the analytical field of biostatistics. The program involves many opportunities for students to apply these various methodologies on their own. This graduate degree program is also available with an online option.

University of Nebraska Medical Center – MPH in Biostatistics – The availability of an online option is a welcome choice for many potential students. This program includes the area of social justice to the study of public health policy issues. The extensive experience in various methods of statistical research provides a strong foundation for students looking to get into this sector of the public health industry after graduation.
YouTube Special Feature
"Dream Job of the Next Decade," according to Google's Chief Economist. From a Keynote Presentation by Hal Varian – Chief Economist, Google, to the 2008 Almaden Institute – Hal Varian makes the argument that with data in huge supply and statisticians in short supply, being a statistician has to be the 'really sexy job for the 2010s'.
Curriculum and Courses for a MPH in Biostatistics
The nature of Biostatistics being a specialization within the MPH degree indicates that there are core courses that make up the MPH, and then additional courses that create the concentration in Biostatistics. The courses in the MPH cover the five essential areas of an MPH:
Biostatistics

Environmental Health Services

Epidemiology

Health Policy Management

Social Behavioral Sciences
Beyond the core courses that provide the fundamental public health "big picture" there are the courses that make up the Biostatistics portion. These courses involve various types of analysis methods and techniques, and provide instruction around those subjects.
The MPH in Biostatistics program at Yale University provides the following courses under its Biostatistics track:
Fundamentals of Clinical Trials

Applied Regression Analysis

Categorical Data Analysis

Longitudinal Data Analysis

Applied Survival Analysis

Design and Analysis of Epidemiologic Studies

Probability Theory

Theory of Statistics
These course, with a choice for customization, are what are required for a graduate to have earned a specialization in Biostatistics as a part of earning their Master of Public Health degree.
Sample of Core Competencies
For graduates of an MPH program, there are certain core competencies, as defined by the Association of Schools of Public Health. They provide the standards for nearly all schools of public health, and require that all graduates of an MPH degree have mastered all relevant skills to an acting professional in public health. These skills are as follows:
Communication and Informatics

Diversity and Culture

Leadership

Public Health Biology

Professionalism

Program Planning

Systems Thinking
The core competencies related to the scientific tools essential to the study of Biostatistics and are more specific to the actual field. These relate to the skills they use in everyday practice, and outline their framework for problem solving.
Again, using the program at Yale University as an example, the core competencies are:
Describe concepts

Develop efficient programs

Apply techniques

Perform analyses

Interpret results

Communicate findings
In having gained the ability to conduct a research study of a particular problem in public health following these steps, a graduate has demonstrated the abilities they earned while achieving the MPH in Biostatistics.
Discipline-specific Competency for Biostatistics according to ASPH.org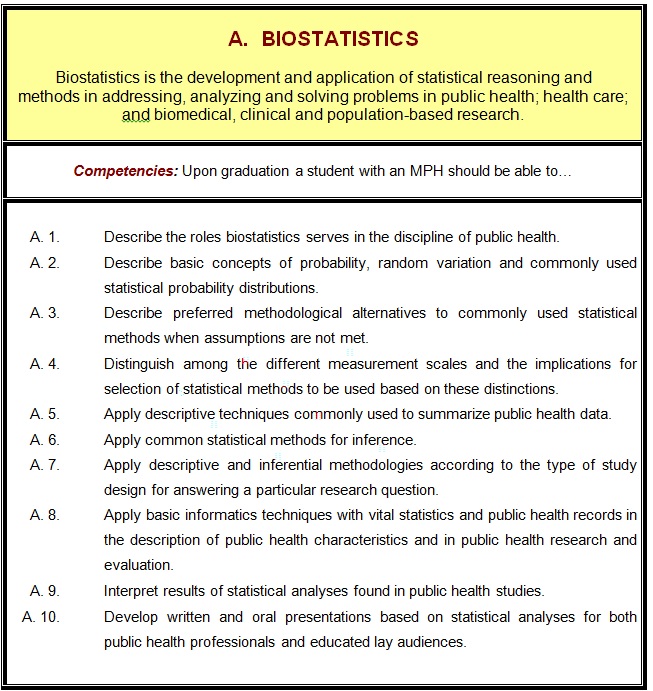 Biostatistics Scholarships, Fellowships & Training
Top Biostatistics Journals
YouTube Special Feature
What is Biostatistics? O. Dale Williams, PhD, Professor and Chair in Biostastics at Florida International discusses the need for biostatistics.
Free Online Courses in Biostatistics
Additional Biostatistics Links