<!- mfunc feat_school ->
Featured Programs:
Sponsored School(s)
<!- /mfunc feat_school ->
A specific type of dentist who works specifically with specific communities who have dire dental needs…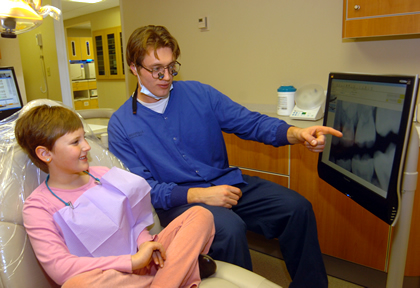 A public health dentist is a specific type of dentist that works specifically with specific communities who have dire dental needs. A dentist diagnoses and treats problems with the teeth, gums and other parts of the mouth. They also provide instructions and advice on how to take better care of the teeth.
Many public health dentists work in needy communities in the US and around the world to provide basic dental care to people who have never had it before. Also public health dentists go to needy communities because the fluoridation of water is not universal in the US, with about 100 million people living in non-fluoridated areas.
Public health dentists often practice at the local, state and federal levels in their employment, and also can work in academic settings.
Dentists use many types of equipment in their daily work in public health, such as x-ray machines, mouth mirrors, drills, probes, forceps, scalpels and brushes. Some may use lasers, scanners and other computer technology to do their work.
Other types of dentists include:
Endodontists

Oral pathologists

Orthodontists

Oral radiologists

Pediatric dentists
Public Health Dentist Degree
If you want to have a career in public health dentistry, you should take classes in chemistry, biology, physics and mathematics in high school. You also need to have a bachelor's degree before you go to dental school.
You will need to have completed several science classes before being accepted to dental school, such as biology and chemistry. Majoring in biology or chemistry can increase your likelihood of being accepted into dental school.
You also will need to take the Dental Acceptance Test to be admitted into dental school. This test is normally taken in your junior year in college.
In dental school, you will take classes in periodontology, anatomy, local anesthesia, and radiology. You will need to work with patients in a clinical setting under the supervision of a licensed professional dentist.
YouTube Special Feature
Public Health Dental Hygienists: Making a Difference

Public Health Dentist Job Description
As a public health dentist, you will do some or all of the following:
Remove decay from teeth and fix cavities

Repair any cracked or damaged teeth; remove teeth

Straighten teeth to correct bite problems

Put sealants over teeth

Provide anesthetics to stop patients from feeling pain during procedures

Write prescriptions for drugs, such as antibiotics

Teach needy communities about diet, flossing, fluoride use and other important parts of basic dental care.
Public Health Dentist Skills and Qualifications
Communications skills

Detail oriented

Dexterity

Leadership skills

Organizational skills

Patience

Problem solving skills

Stamina
Public Health Dentist Certifications
Dentists must be licensed in all states, although the requirements vary. Generally, you need to have a dental degree from an accredited university and have passed a written and practical examination.
Public Health Dentist Salary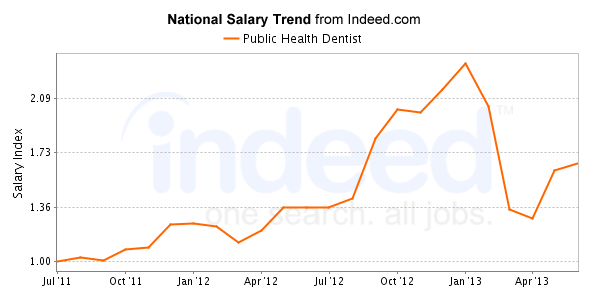 Indeed.com states that the average salary for dentists generally is $84,000.
The median salary for dentists generally is $146,000, with the top 10% earning $166,000 per year.
The median wages for various dental occupations is as follows:
Oral surgeons: $166,400 or more

Orthodontists: $166,000 or more

Dentists, including public health: $161,000

Prosthodontists: $118,000
Public Health Dentist Employment Outlook
The employment of dentists overall will increase by 21% by 2020, which is faster than average. This is likely because as people are getting older, they need more dental work. Dentists are seeing more public demand in the US for good dental care, as there continues to be a strong link between oral health and general health.
Employment for dentists is not keeping up with the demand. This is especially the case for poorer areas of the country. People in these needy areas need access to public health dental services more than ever.
As of 2013, there are 155,700 dentists working in the US.
Some who are interested in public health dentistry decide to work for the US Public Health Commissioned Corps. This allows you to focus on clinical practice in public health dentistry, but you do not have to worry about maintaining a business.
Associations
Additional Resources
YouTube Video Resources