<!- mfunc feat_school ->
Featured Programs:
Sponsored School(s)
<!- /mfunc feat_school ->
The desire to make a difference in the world brings people to consider bringing about change on a global level.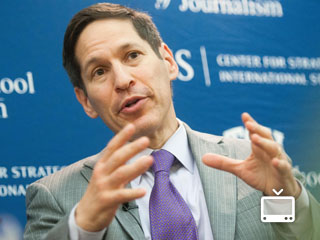 The desire to make a difference in the world brings many people to consider bringing about change on a global level. There are underserved populations all over the world that do not have many of the basic things we take for granted with our standards of living. In order to make a difference in these areas, delivering some of those "basic" things can make the difference they are looking to carry out.
With the field of public health, bringing basic medications, vaccinations, and even clean water can change everything for those populations in many areas. In order to make these kinds of improvements, a person needs to be properly trained and educated on the field of public health on a global scale. Graduating with a Master of Public Health degree in Global Health Leadership is the best first step to prepare a person for a position capable of bringing about this kind of change.
The following information is provided to explain the basic elements of global health leadership, as well as to explain the public health field as a whole.
MPH Degree Programs in Global Health Leadership
University of Southern California – (Featured & Highly Recommended!) – MPH in Global Health Leadership – There is no restriction for the backgrounds of the students in this program. The thorough coursework includes preparations for future graduates to feel comfortable performing as public health professionals, on a national or international stage. The global element requires additional experiences with diversity practices and multi-cultural understanding of how societies and public health differ.

University of Liverpool – (Featured & Highly Recommended!) – MPH in Public Health – Want to study at a UK Non-Profit university without leaving your house? The University of Liverpool offers a fully accredited Online Masters in Public Health. Specialization tracks include Epidemiology, International Public Health, Management of Health Systems & Management. Ideal for developed and developing country students.
University of North Carolina – MPH in Leadership for Global Public Health – Current professionals interested in expanding their knowledge of the field of public health are the targets of this program. With an existing background of some health-related responsibility, they will have opportunities to customize their graduate curriculum to match their experiences and aspirations. In addition, this program is available as an online offering.

Yale University – Master of Public Health in Global Health – With a primarily global perspective, students are challenged to be innovative in their thinking and in their creativity for developing solutions to existing global health issues. This program can be completed in a two-year timeframe or in a fast-track one-year time period for advanced professionals accepted into that track.
YouTube Special Feature
Rachel Smith, MPH student at the UNC Gillings School of Global Public Health, talks about her experience as a distance education student studying public health leadership.

Curriculum and Courses for a MPH in Global Health Leadership
The Association of Schools of Public Health (ASPH) provides resources to the public health field in order to regulate and create consistency within some of the graduate school programs and degrees. For the MPH degree, they have provided the foundation for the curriculum of colleges and universities. As for the core of the MPH program, the courses will consist of the five studies within public health. These are widely considered to be:
Biostatistics

Environmental Health Sciences

Epidemiology

Health Policy Management

Social and Behavioral Sciences
The foundation of these five areas will provide students with all of the basic understanding necessary to be a professional in public health. Within their specialization, in this case global health leadership, the courses will consist of the various studies that create expertise in that field.
These courses vary between different graduate programs, but an example of the curriculum at the Keck School of Medicine of University of South California provides an option to look into. Their courses include topics such as:
Cultural Perspective

Leadership and Management

Emerging Trends

Biological Basis of Disease

Organizing and Mobilizing Communities

Interdisciplinary Approach to Disaster Study

Ethical Issues
These courses would provide the knowledge and skills essential to practice as a global health leader. Many of these courses have more to do with preparing the graduate for the challenges based in these situations, ensuring a more effective and successful implementation.
Sample of Core Competencies
As it does with the public health curriculums, ASPH also created a core competency model for the MPH degree. Overseeing the five main disciplines of MPH, as listed above, the following list of competencies should be realized by all graduates of an MPH degree:
Communication and Informatics

Diversity and Culture

Leadership

Professionalism

Program Planning

Public Health Biology

Systems Thinking
In addition to these competencies anticipated from the MPH, there are an additional set of competencies that should be learned by all graduates with specializations in Global Health Leadership. The separate competencies for global health are:
Capacity Strengthening

Collaborating and Partnering

Ethical Reasoning and Professional Practice

Health Equity and Social Justice

Program Management

Socio-Cultural and Political Awareness

Strategic Analysis
These competencies were also defined by the ASPH and seek to unify the expectations that can be assumed across programs at different colleges and universities.
YouTube Special Feature
In this video, Dr Greg Martin talk about career opportunities in Global Health, including what organisations you can work for and what skills sets you'll need. Finding a job in Global Health isn't always easy but hopefully this video will give you a few useful pointers. See Top Jobs & Careers in Public Health.
Global Health Leadership Scholarships, Fellowships & Training
Top Global Health Leadership Journals
Free Online Courses in Global Health Leadership
YouTube Video Resource
Hugh Tilson, M.D., Dr.P.H., interviews Kristine Gebbie, Dr.P.H., RN for Profiles in Public Health Leadership. In the first segment of six, Dr. Gebbie speaks about systems thinking and team-building.
Additional Global Health Leadership Links